Sustainable Development
#R&D #Establishment of an Internet Data Center (IDC) #Sustainable Business Strategy
The media environment will be changed by a great deal in the era of hyper-connectivity. AfreecaTV seeks to respond to this change by building a new media consumption environment, including cryptocurrency transactions. We conduct R&D on technology that is optimal for all viewing environments so that the users can use the services regardless of time and place. We are preparing for new services that can expand the interaction between BJs (contents creators) and users via a blockchain. In addition, AfreecaTV is further expanding investment to build and grow an NFT trading platform based on blockchain and create an environment in which the AfreecaTV platform and a blockchain-based NFT platform are linked.
R&D
AfreecaTV addressed various challenges through R&D to make watching and doing live streaming and VOD more comfortable. The sub-CEO technology R&D center has the Media Lab, Mobile Lab, and Infra Lab where specialized technologies are being studied.
AfreecaTV achieved various outcomes through active R&D efforts, which are being adopted in existing and new businesses. AfreecaTV will keep trying to make R&D efforts enhancing user experience on the platform by stabilizing the streaming network, strengthening the security solution, and securing source technology for new businesses, such as NFT and VR.
R&D Performance
(As of March 2022)
R&D Performance

| Type of technology | Live streaming technologies | VOD-related technologies | Other technologies | Total |
| --- | --- | --- | --- | --- |
| Number | 24 | 8 | 26 | 58 |
Organizational Chart of the Technology Research Center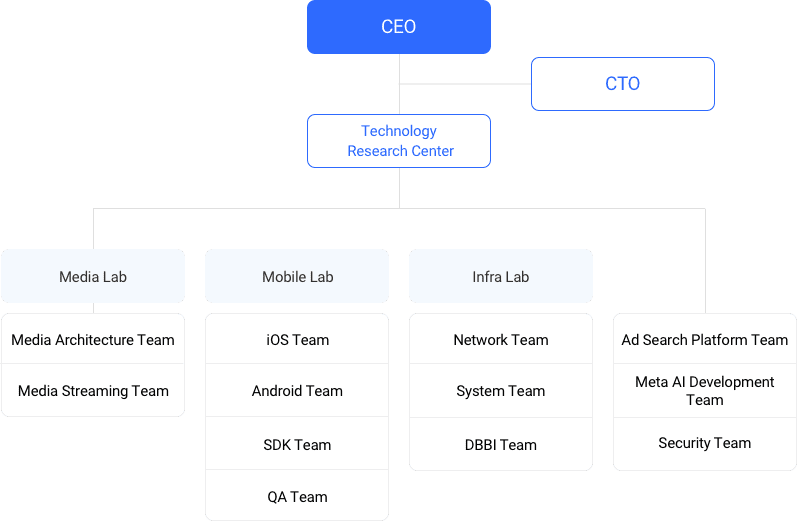 IDC is an abbreviation for Internet Data Center and refers to a facility that consigns and manages the computer facilities of a company by gathering and establishing Internet servers. As using untact communication services is rapidly increasing due to the recent COVID-19 pandemic, and information processing technology is quickly advancing, the need has emerged to build our own in-house IDC for smooth data processing, rather than continue to rely on consignment.
Accordingly, AfreecaTV has set a five-year plan to develop its own data center by 2025 and is implementing it in stages. Through the establishment of its own IDC, AfreecaTV enhances user satisfaction by securing quality competitiveness while seeking to advance the foundation for its future global business expansion.
Five-Year Plan for the Establishment and Implementation of an Independent IDC Operating System
STEP 01 2021 Reviewing data center migration

- Inspecting the aging status of IDCs

STEP 02 2022 Preparing a hybrid data center

- Dualizing IDCs
- Preparing a hybrid operating base with the cloud

STEP 03 2023 Laying the technology foundation for multi-IDC operation

- Accumulating data center operational know-how
- Testing major distributed operational solutions with cloud

STEP 04 2024 Operating a hybrid data center

- Implementing the distributed transfer of data center infrastructure

STEP 05 2025 Building AfreecaTV's own data center

- Organizing AfreecaTV's own data center TF
- Establishing a facility/scale IDC technology standard
The media environment is expected to change significantly with the flow of the times as the boundaries between the virtual space and our daily lives gradually blur, and interest in the next-generation Internet Web3.0 is gradually increasing. AfreecaTV is making various attempts to secure competitiveness without losing its value in this rapidly evolving environment. AfreecaTV is continuously researching and developing technologies optimized for usage and viewing environments so that users can access the services of AfreecaTV in various forms, regardless of time and place. We also further expands investment by building an NFT trading platform based on blockchain and etc.
Strategic Tasks for Business Sustainability
Metaverse

- Preparing for the future media environment by building VR/AR platform linked with AfreecaTV
- Building a VR eSports platform as a leading eSports company

Media technology development

- Building a basis for multi-IDC operation to provide stable content and broadcasting
- Building a broadcasting and viewing platform optimized for various environments

NFT

- Launching the trading platform AFT (AFreecaToken) market

Mobile-centric service

- Building mobile services that anyone can use
- Diversifying personal broadcasting by maximizing mobile advantages
List