External Stakeholders
Investors & Shareholders

Q1.I am curious whether a person and department in charge of ESG tasks within AfreecaTV have been designated and about the internal process and status of the implementation.

Answer & ESG Strategy 1

AfreecaTV established its ESG Committee through a resolution of the board of directors on March 22 to run a practical ESG management system and to establish and implement its mid-to-long-term strategies. To support this, AfreecaTV proposed an agenda and organized a consultative body in July to monitor the implementation of its established strategies continuously.
USER

Q2.I am curious about the central social contribution concept and content of AfreecaTV. In addition, I think it would be better to focus on investing after designating core areas rather than investing in a wide range of programs.

Answer & ESG Strategy 2

AfreecaTV's primary social contribution content: volunteer content, community revitalization content, educational content, and positive influence campaigns. AfreecaTV's volunteer content is being broadcasted annually centered on BJs, who conduct various social and environmental volunteer activities such as sharing briquettes, providing kimchi, and plogging activities. AfreecaTV also contributes to revitalizing the local community by introducing related food/ regions with content such as OO Mukbang Day and the BJ Exploration Team.

AfreecaTV is conducting the online and offline Good Influence Campaign in which star BJs with significant recognition and influence participate to share information and boost interest in socially vulnerable persons. Some representative campaigns are the Search for Missing Children and the Starving Children campaigns.

AfreecaTV supports the musical activities of musicians by holding performances in culturally underprivileged areas and producing content on non-mainstream music genres that need more attention from younger generations, such as traditional and classical music. Also, AfreecaTV regularly produces educational content on the subject of Korean history and culture, daily-life legal knowledge, and language, and strives to create a positive influence through content. In the future, we will also positively review our focus on large-scale investments in social contribution content.
Internal Stakeholders
Employee

Q3.ESG, from a social point of view that includes labor and human rights, is being enhanced globally. In line with this global trend, I want to know how AfreecaTV materialize its ESG system and strategy and prepare its mid-to-long-term tasks.

Answer & ESG Strategy 3

AfreecaTV has been laying the groundwork for ESG management that respects labor and human rights by publishing its first ESG report in November 2021, establishing committees and consultative bodies under the board of directors, and promulgating its 'Human Rights Management Declaration'. AfreecaTV is planning conduct human rights education and related status surveys to ensure that management respecting human rights can be more actively realized in the future. If necessary, AfreecaTV will continue its efforts by establishing related mid- to long-term tasks through the ESG Committee.
Employee

Q4.I am curious about the opportunities and training programs for fostering new BJs. I think enhancing PR support new or general BJs would be good.

Answer & ESG Strategy 4

AfreecaTV has prepared various measures to support new BJs who lack awareness and experience in adapting more easily to broadcasting activities. First, AfreecaTV gives points to new BJs with less than 500 hours of accumulated broadcasting time, and they can exchange those points for broadcasting equipment and VOD editing rights. AfreecaTV is also operating 'Newbie Zone' for BJs with less than 1,000 hours of cumulative broadcast time, which provides publicity support, official broadcast support, and a dedicated hotline.

In addition, we support production costs and PR by operating the Content Support Center at all times so that BJs can use it whenever they find it difficult to turn their ideas into content due to issues such as costs and infrastructure. We also plan various events that BJs can make use of in each category and provide relevant support in broadcasting by acquiring broadcasting rights for sports, music, animation, etc. AfreecaTV intends to further expand the scale of support for new BJs in the future and will continue to seek ways to establish stable platforms for new BJs.
Employee

Q5.I think it is necessary to form independent organizations such as an in-house venture and CIC organizations for the future vision of AfreecaTV, and I want to know about the new organization and operation plan.

Answer & ESG Strategy 5

AfreecaTV has not formed separate in-house venture or CIC organizations to promote new business. Yet it actively drives new business through advertising, global, and metaverse projects as company-wide tasks. We have also sought to enhance efficiency and expand synergies by reorganizing our headquarters and establishing subsidiaries. Furthermore, AfreecaTV opens the Idea Competition (SEED) every half year to actively embrace the new ideas of employees. Employees can freely participate in SEED without restrictions on their position, title, or department, and the scope of ideas is not limited to any particular business area. In addition, the executives and employees who propose the finally selected ideas receive prize money and additional points during personnel evaluations. We also allow them to present their ideas directly to management and receive feedback.
Employee

Q6.AfreecaTV provides a BJ platform that anyone can easily join. I think the company needs to take more responsibility for professional ethics, broadcasting regulations, and social issues than it does currently. Please share your achievements and plans.

Answer & ESG Strategy 6

AfreecaTV tries to make various efforts to respect the freedom of expression of its users while fulfilling its responsibilities for social influence as a platform. First of all, AfreecaTV is proactively updating content policies, even in institutionally incomplete areas, to keep pace with the rapidly changing social and cultural environment, and the company informs and communicates with users and BJs through regular meetings. AfreecaTV also produces and distributes highly accessible educational content in the form of webtoons and videos, and is continuing its efforts to create a mature one-person media culture by launching various campaigns.

In addition, AfreecaTV operates a 24/7 monitoring team at all times and actively uses its own AI to automatically filter out harmful content and chats. We also try to identify content compliance statuses and take appropriate measures where necessary. We respond to BJs that have caused social scandals based on our Operation Policy and take action considering of the issue, level, and severity of related matters following fact-checking from multiple angles. We carry out follow-up activities to prevent recurrence, such as raising awareness through regular training and ongoing meetings with BJs who have an issue.
ESG Committee
AfreecaTV established the ESG Committee under the Board of Directors in March 2022 to pursue, manage, and monitor ESG management. In July 2022, the ESG Council was established to provide substantive support to the ESG Committee, which completed the company-wide system. Through ESG management activities, we plan not only to strengthen communication with stakeholders, but also respond to risks and opportunities.
Organization Chart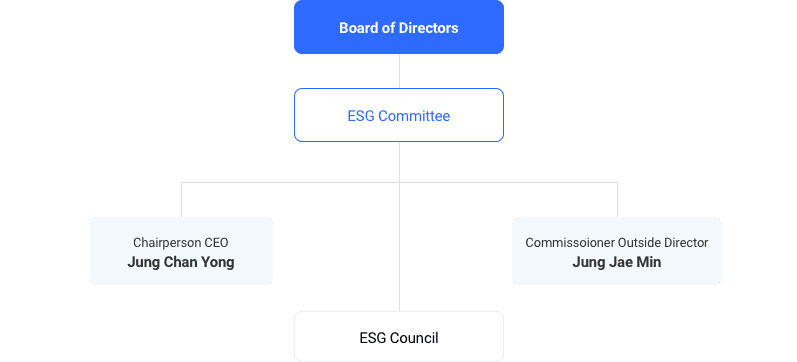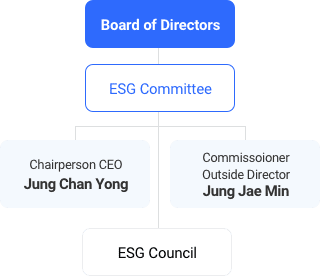 ESG Committee Roles

- Deliberating and resolving major ESG-related issues and management matters
- Suggesting significant ESG-related policies to enhance shareholder value
- Deliberating on significant issues related to ESG and social responsibility

ESG Committee Operation Plan

- Publication of the 2021 Sustainability Report

ESG Council Roles

- Establishing ESG management strategies
- Internalizing ESG management
- Supporting the ESG activities of the company

ESG Council Operation Plan

- Ordinary and extraordinary meetings
List