Social
#Media responsibility #Clean content #Employees #Strengthening partnership #Social contribution
To create a healthy media environment, AfreecaTV enforces service operating standards and usage policies for all BJs, users, and other stakeholders. We constantly listen to our stakeholders in order to create reasonable operating policies that reflect their opinions. At the same time, we are always working to improve our processes—including user-information protection measures—to fulfill our corporate social responsibility. Moving forward, we are committed to ensuring that anyone can pleasantly enjoy AfreecaTV's services, even as we strive to build an advanced broadcast platform.
Clean Content Creation Initiative
AfreecaTV has launched an initiative to create a clean, one-person media culture for all users and BJs. We encourage users to agree to the Positive Comment Pledge, and we are promoting this initiative through various channels using our "card news" service and videos to ensure that content on our platform adheres to social norms.
Media Content Policy
Our enterprise-wide operating policy is underpinned by our legal and ethical responsibilities. This policy ensures that we provide healthy media content that anyone can use.
Prohibited behavior and content
Sanctions
Warning

- Minor violations
- Unintended violations by BJs
- Violations BJs are unaware of
- Violations by others

Suspension

- Violations of the operating policy
- Violations with malicious intent
- Extremely serious violations, such as actions meriting social censure or defaming the reputation of the service
- Multiple chat bans by Clean ATI (operator)
Appeals process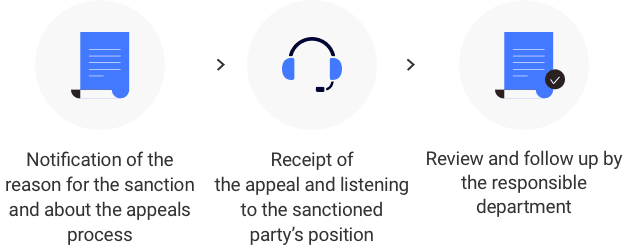 Policy Training
To ensure easy access to the policies of AfreecaTV, we provide not only written posts but also web comics and videos to users. As such, we are striving to play a leading role in cultivating a responsible media culture. Specifically, content creators who wish to be Star BJs and receive more benefits must take at least five AfreecaTV BJ training courses. In addition to the training materials provided by AfreecaTV, the Internet broadcast guidelines devised by the KISO (Korea Internet Self-Governance Organization) are also available so that BJs create appropriate content.
AI Filtering Technologies Taekwon A & Taekwon S
AfreecaTV aims to promote a well-mannered chatting culture by developing and adopting its own AI filtering technologies and to keep the platform healthy by swiftly identifying and sanctioning sexual content. We assess and filter out harmful chats and content by using Taekwon A, which is an AI technology that filters out ads and foul language, and Taekwon S, which detects and bans pornography and other sexual content. The filtered chats and content are sanctioned immediately after being detected and are systematically managed afterwards to prevent a reoccurrence of such incidents.
Technology
Taekwon A
Taekwon S
Filtering
Ads and foul language
Pornography and other sexual content
Purpose
To promote a healthy chatting culture by effectively filtering all sentences on live streaming and messages
To protect users by swiftly and effectively banning sexual content and sexual behavior on streaming
Update
Detect ads and foul language in more various situations than 2021 with the addition of deep learning to the dictionary-based filtering system
Increase in detection accuracy compared to the initial phase (2018) through constant updating and data learning
Sanctions

- Chat bans or expulsion through real-time detection of foul language during live streaming by Taekwon A
- Messages categorized into normal, spam, or foul language
- Identified users sanctioned by the administrators in charge on the admin page

- Taekwon S identifies and measures sexual content on the platform in real time and passes sexual content categorized as 'very certain' or 'likely' to the admin page along with relevant information.
- Thumbnails and 10-second summary videos delivered with the detected video
- Deletion, hiding, or suspension following a review by the administrators that handle sexual content
A Culture of Respect for Life
AfreecaTV carries out activities with the aim of creating a respectful culture across our platform through various campaigns and programs. AfreecaTV internally have systemized the sanction process for life-related content and is working to foster respect for life. We engage in various activities, such as developing content and campaigns that encourage a life-affirming environment, in cooperation with other parties, and have been awarded a Minister's Commendation by the Minister of Health and Welfare in recognition of these efforts. AfreecaTV will continue its efforts to fulfill its responsibilities as a media company and reinforce a healthy online culture.
Life-related broadcasting sanction
01

Verify the broadcasting of life-related content and determine its appropriateness

02

Pause or End the broadcast after checking the content

03

Report to Authorities (police, 911, etc.) about measures taken

04

Submit a final incident report about the content and timeline
Minister's Commendation recognizing our effects to value human life
Human Rights Management
Human Rights Management Declaration
AfreecaTV declares the following human rights management principles to fulfill its corporate social responsibility and practice human rights management with all related parties, including our members, users, investors, shareholders, business partners, and local communities, to respect human rights as a company
1.

We support and respect the international standards of human rights, such as the UN Universal Declaration of Human Rights and the ILO Declaration on Fundamental Principles and Rights at Work.

1.

We respect the dignity and value of humans and prioritize human rights management.

1.

We prevent violations of human rights in advance, and take proactive relief measures.

1.

We do not discriminate against stakeholders, including company members, based on race, gender, religion, disability, age, nationality, or hometown.

1.

We comply with labor laws and guarantee freedom of association and the right to collective bargaining.

1.

We do not allow any kind of forced labor or child labor.

1.

We create a safe and healthy work environment to enhance industrial safety and health.

1.

We respect the human rights of all stakeholders, including our customers, relevant agencies, and local communities, and promote mutual growth.

1.

We comply with environmental laws in and outside Korea, and strive to preserve the environment and minimize pollution.

1.

We work to spread human rights management across society.
June 10, 2022
CEO of AfreecaTV Jung Chan Yong
Enhanced Satisfaction of Users and Partners
AfreecaTV offers structured job-specific training to all employees to enhance their capabilities. We survey users and partners who have used the CS channels about their customer service experiences and this internal monitoring forms the basis for service improvements. We also share customer service and monitoring feedback with our users. Our monthly online and offline user forums provide an opportunity our users to share their ideas and opinions and for us to inform them of new services and policies. Open communication is a key means of building satisfaction within the community.
Training and other activities to enhance user and partner satisfaction
Staff training

- Train monitoring and customer service staff
- Train staff who communicate with BJs

Continuous monitoring

- Review monitoring and action logs

Online/offline user forum

- Hold monthly user forum
- Announce new services and policies

User survey

- Measure user satisfaction with customer service
- Improve service quality related to operating policies and user inconveniences
Percentage of users saying "Very satisfied" with customer service interactions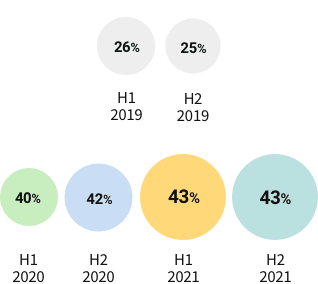 Communications channels for enhancing user satisfaction
Individual
inquiries

Customer
service

Reporting
channel
Expansion of services provided at the CS center
Call-back service

- A call-back-only feature in addition to regular customer service
- Available to all users, not just specified certain users as before (starting from April 2022)

Hours of operation

- Hours of operation expanded in consideration of the periods of time when BJs and users are more active (March 2021)
- As-is: 9 am - 6 pm
To-be: 9 am - 2 am
Youth Protection
AfreecaTV recognizes the importance of protecting youth from harmful environments and does its utmost to create a healthy environment on its platform to protect the next generation of our society.
We enforce our youth protection policies in line with the Youth Protection Act and relevant regulations. Our measures to protect youth, such as blocking access by youth to harmful content, are stipulated on our website.
Relevant tasks are performed by youth protection officers who have completed youth protection training. The company operates a communication channel that users can access to request counselling if they suffered from viewing harmful content, or to lodge complaints.
We protect all users, including young people, by posting notices on the platform and by informing them via email of new types of harmful content that they should remain vigilant against. Furthermore, when users engage in unhealthy behavior, we can restrict their access to the platform, or even take civil or criminal action in accordance with our terms of service. We are committed to addressing issues that involve youth by providing information and promoting youth protection campaigns. AfreecaTV protects youth from harmful content to help them grow into healthy adults and fulfill its corporate social responsibility.
Youth Protection Campaign
01

Set age limits for exposure to tobacco and alcoholrelated content, as well as content filmed at places off-limits for minors

02

Set age limits on broadcasts of games of chance

03

Strictly prohibit violent behavior and the comical depiction or glorification of crime

04

Set age limits for content with suggestive clothing or sexual behavior

05

Use decent language
Content Support Center
AfreecaTV operates the Content Support Center to help BJs who are struggling to produce content even though they have creative ideas in the production process. We assist BJs, partners of AfreecaTV, with production costs, equipment, and technology as well as promotional support on the AfreecaTV website. The Content Support Center announces eligibility criteria and provides eligible applicants with a variety of tailored solutions. In 2021, 933 BJs applied for content support from the center, which increased by 3.55% from 901 of the previous year.
Content Support Center eligibility criteria
Content Support Center performance*
*Number of applications and cases of support for contents production excluding marketing support
Additional Support for Best/Partner BJs
We offer special benefits to Best BJs, who are selected based on their content and individuality. Best BJs are selected through a process of two review stages and are entitled to benefits such as four psychological counseling programs per year, access to a dedicated support bulletin board, and the provision of dedicated vehicles. Moreover, BJs who have a contract with the company are called Partner BJs, and we spare no effort in supporting them as partners for mutual growth.
Best BJ selection process
Support Center to Help New BJs Adapt
We provide support to help New BJs adapt to the platform. The center provides reward points and content management support to new BJs with a cumulative broadcast time of 500 hours or less, and gives them access to broadcasting equipment and VOD services. AfreecaTV has also set up a one-on-one personal care hotline to help BJs adapt to the company's platform and enhance their capabilities as media content creators. AfreecaTV will continue to expand its BJ support programs and foster skills to complement our role as a media culture leader. To that end, we will ensure that each BJ can freely broadcast differentiated content on a stable platform.
Maum Todak, a Psychological Counselling Program
Maum Todak, which translates to "a pat on the back for the mind," is a program AfreecaTV offers to our BJs in partnership with a professional counselling center to help them maintain their emotional health. We recognized how malicious comments written by some users during live streaming can negatively impact our BJs' mental health and we understand the seriousness of this issue. We are trying to support emotional health and stability within the BJ community through the Maum Todak program. This helps our BJs deal with the challenges of their broadcasting work, as well as with general issues with stress and interpersonal relationships.
These services are not only available to BJs, but also AfreecaTV employees, and contribute to the mental well-being and health of all members of the organization. AfreecaTV bears 100% of the Maum Todak counselling fees, and the counselling records are kept completely confidential from the company and administrators. AfreecaTV offers an ongoing care program to achieve mutual growth with BJs. We will continue to care for the mental well-being of our BJs and employees.
Maum Todak program
AfreecaTV strives to attract and retain outstanding talent and to promote policies and an environment which they can develop and utilize their skills. We provide not only various supports programs, but also training for sustainable growth. Through fair assessments and compensation, we instill in our team a greater sense of belonging that promotes a mindset of focusing on work. We are building a corporate culture at AfreecaTV that enables employees to enjoy a healthy balance between work and home in the long term.
HR Recruitment Process
AfreecaTV focuses on hiring talented individuals with superior capabilities and potential. We strictly prohibit discrimination against candidates on the basis of factors other than merit. We provide equal opportunities to candidates by sharing the recruitment process in a transparent manner.
Diverse Hiring Methods
AfreecaTV holds an open recruitment process once a year for full-time positions and makes special hiring offers as needed. For fair recruitment, we give applicants significant freedom with their photographs and application forms, and do not require them to list the names of the schools they attended or the grades they earned. In 2020, we introduced personality testing to further ensure a balanced workforce. Blind interviews during recruitment focus on job ability and growth potential, rather than just the basic elements ("specs") of candidate resumes for a transparent and balanced approach. We will continue to develop our workforce by implementing a variety of hiring approaches each year. AfreecaTV is committed to attracting a great team for the company's future growth.
Recruitment methods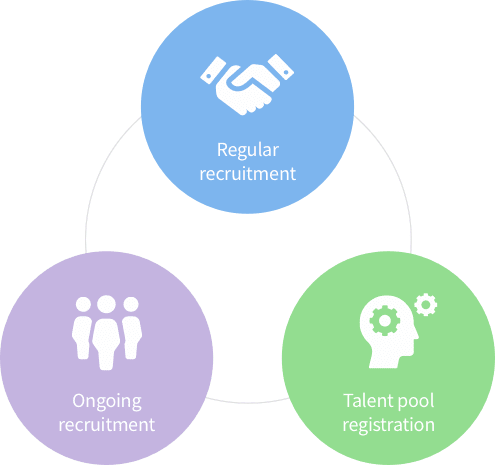 Fair Hiring Assurance
AfreecaTV aims to recruit outstanding talent and diversify its talent pool by providing opportunities to all potential candidates, without any discrimination on the basis of hometown, school name, age, gender or race. We conduct blind interviews that focus on actual work capabilities. Notably, we are working on new recruitment processes to hire more women, high-school-level graduates, and people with disabilities. In 2021, we recruited a total of 37 women and 8 persons with disabilities.
Fair recruitment results*
Women hired

(unit: persons)

Persons with disabilities hired

(unit: persons)
Efforts to Create Employment
AfreecaTV works continuously to attract competitive talent for sustainable growth and is contributing to job creation by increasing the number of new employees it hires. We employ top-notch professionals who understand our live streaming service, and recruit for roles in ten areas, including customer support, monitoring, platform operations development, web service development, and video editing. Our number of employees has grown year-on-year by 21%, 12%, and 8.3% in 2019, 2020, and 2021, respectively.
Increase in the number of employees*
(unit: persons)
New Employee Training
AfreecaTV helps new employees gain an understanding of the company, settle into their jobs quickly, and form a strong commitment to the organization. We offer a variety of training programs, including basic training to give a general understanding of the company, specialized training, programs to improve basic work competencies, onboarding programs, and mentoring. We provide support so that new employees can adapt smoothly to the company and become talented workers through relevant competencies and an understanding of the company's businesses.
Training program
Work Capability Enhancement Training
To support employees in their determination for self-improvement, AfreecaTV provides job competency training that comprises general skills training within the company and individual training programs through third-party providers. The General Empowerment Training Program is for employees of AfreecaTV and affiliated companies and is conducted in the form of lectures and discussions. When signing up for training, we help employees choose what to learn based on recommended courses for their individual job positions. However, employees are free to apply for whatever training they want, regardless of position and rank. The Individual External Training Support Program is available to all employees. When employees apply for this training, their applications are reviewed and approved within their team, and then funded by the company. We are working on other programs to address employee needs in the areas of communication and personal development, as well as inviting guest speakers. We also offer the Reading and Communications Training Program, which has garnered positive feedback from employees. This provides quality training related to leadership, economics and personal investing, marketing, and other topics based on learning plans designed by a professional team of instructors. The company furnishes interested employees with study materials on a monthly basis.
Fair Assessment and Compensation
AfreecaTV has a fair assessment system that reflects individual performance and contributions in a balanced manner. At AfreecaTV, goal setting and evaluations are geared toward motivating employees to achieve more, as opposed to a focus on rank-based competition. We aim for a culture that grows with the company so that all goals—from the company's top mission to individual employee targets—are aligned through a two-way KPI goal setting process. This supports the individual development of employees and helps us discover our strengths and weaknesses, and things that work well and things that don't work well, in an intuitive way instead of ranking the employees through an absolute evaluation system.
Goal setting & assessment process
STEP 01

When employees join the company

Assess during the training period | Assess achievements and competencies

STEP 02

January

Set goals for H1 | Set goals for the year

STEP 03

May-June

Assess achievements

STEP 04

July

Set goals for H2

STEP 05

November-December

Assess achievements | Assess competencies
1. Goal setting and assessment
Goal setting (KPI)
We set strategic goals at the organizational level so that the company can fulfill its ultimate mission and achieve its target level. We then set detailed KPIs and action plans for leaders and team members at the departmental level so that our strategic goals can be met. We also have our team members set their own individual goals for their work, thus encouraging a KPI-setting approach for both personal growth and development, as well as for the growth of the company. We set departmental goals and individual goals separately so that the company can grow with the employees and maintain the momentum of growth through reasonable compensation and feedback based on the assessment result.
Personnel assessments
At AfreecaTV, the achievements and competencies of our employees are assessed based on the KPIs they set themselves. In the culture we are building, the employees are responsible for setting their own KPIs and the results. Adherence to objective assessments in this way eliminates irrational or external factors. Results are then linked to promotions and compensation, which provides real motivation by encouraging forward-looking feedback and allowing employees to find enjoyment in their work.
2. 360˚ leadership assessment
Leaders receive 360° assessments in which periodic feedback is compiled from supervisors, colleagues, and team members regarding general and other leadership competencies. This assessment covers ten areas: organizational competency development, motivation, learning and research, human relationships, operations and management, ethics and fairness, problem solving and innovation, communication, decision making, and attitude. The purpose of the multifaceted 360° assessment is to take leaders' general competencies to the next level by acknowledging their strengths and providing them with training related to the areas of relative weakness identified through this process of self-reflection and honest feedback, instead of ranking them.
Family-Friendly System
In 2020, AfreecaTV was certified as a Family-Friendly Enterprise by the Ministry of Gender Equality and Family in recognition of the proactive family-friendly system of the company and its positive outcomes. Female employees can take leave in cases of childbirth, infertility, and miscarriage, work shorter hours during pregnancy and the early stages of childrearing, and take leave or days off to care for their families. We have set up a shared daycare center to reduce the burden of childrearing. To encourage employees to have children, the company pays employees a congratulatory bonus on the birth of a child based on a sliding scale: 1st child: KRW 300,000, 2nd child: KRW 2 million, 3rd child: KRW 3 million. Our company culture permits new mothers, as well as their spouses, to freely use parental leave and return to work later. Special paid time-off is also granted to male employees so they can spend time with their families. In addition, to convey our gratitude to our employees, we send birthday gifts every year to our employees' parents and pay congratulatory bonuses on the first birthdays of their children. Our family-friendly system cares deeply for the family members of our employees. AfreecaTV will spare no effort in ensuring that our employees and their families are happy.
Employee Benefits
Internal benefits

- In-house cafeteria
- Refreshment leave
- Award for 10 years of consecutive work
- Workout programs

Health/home support

- Health check-up support
- Healthcare cost support
- Monetary gifts for childbirth
- Monetary gifts for special life events
- Shared daycare

Monetary support

- In-house loan system
- Benefits points system
- Public holiday points system
- Stock option system
- Profit sharing system

Other

- Psychological counselling program
- COVID-19 vaccine leave
- Recreational facilities support
- Commuting support
- Support for club activities
- Personal development support
Category
Details
Internal benefits
In-house cafeteria
"Hubang" to help employees communicate and rest, with free snacks and drinks
Refreshment leave
Leave and vacation expenses every 3 consecutive working years to motivate employees and give them a chance to recharge
Award for 10 years of consecutive work
10 don of gold and 10 days of paid vacation to employees who have worked for 10 consecutive years
Workout programs
Workout programs run by professional coaches, considering the fact that employees spend most of their time at the computer
Health/home support
Health check-up support
Health check-up support for employees aged 30 or over and one other family member
Healthcare cost support
Support for healthcare costs for employees and their spouses, parents, and children
Monetary gifts for childbirth
Congratulatory bonuses on the births of children: 1st child: KRW 300,000, 2nd child: KRW 2 million, 3rd child: KRW 3 million
Monetary gifts for special life events
Birthday gifts for employees' parents and congratulatory bonuses on the first birthdays of employees' children
Shared daycare
A shared daycare center to relieve the burden of childrearing
Monetary support
In-house loan system
In-house loans (with increased amounts) for the stable lives of employees who have worked for 2 consecutive years (instead of 3 years)
Benefits points system
Points that can be used for various purposes (e.g., education, medicine, leisure, etc.) of the employees' choice
Public holiday points system
Points that can be used on public holidays
Stock option system
Long-term renumeration policy to foster and retain key talent
Profit sharing system
Incentives provided to employees with outstanding performances based on fair assessments to share the company's profits with employees
Other
Psychological counselling program
Psychological counselling by professional counsellors
COVID-19 vaccine leave
2 days of leave including the date of vaccination
Recreational facilities support
Accommodation and other benefits at partnered recreational facilities
Commuting support
Shuttle services and provision of gas costs in the case of carpooling of employees who live 10km or farther away from the company
Support for club activities
Fostering relationships among employees who have the same interests, monetary support for club activities
Personal development support
Support for personal development expenses
Diverse Workforce
AfreecaTV has a diverse workforce and stipulates that employees must not be discriminated against on the basis of gender, age, hometown, physical aspects, etc. We ensure that the only factors in promotion, compensation, and renumeration are merit and competencies by adhering to the Labor Standards Act and relevant regulations. Particularly in recruiting new employees, we aim to provide fair job opportunities to vulnerable persons, including persons with disabilities, veterans, persons from rural areas, and socially marginalized persons. We provide non-regular workers an opportunity to become permanent employees so that they can be treated fairly based on their competencies, without bias.
We offer qualitative and quantitative growth opportunities to female employees to achieve gender equality. We have created an internal training system to cultivate female leaders, and the trajectory has been positive for the last three years, with females accounting for 23% of team leaders and above in 2021. Our workforce is composed of employees with diverse backgrounds and values, and we have a culture that respects differences and contributes to creative results and innovative growth. AfreecaTV will continue to build an inclusive corporate culture that respects employee diversity and facilitates communication.
Female managers
(unit: persons)
| Category | 2019 | 2020 | 2021 |
| --- | --- | --- | --- |
| Female manager | 13 | 15 | 16 |
| All managers | 62 | 64 | 71 |
* Managers: team leaders and above, excluding affiliated companies
Retirement Pension
AfreecaTV provides a retirement pension so that employees can prepare for and enjoy financial security after retirement. AfreecaTV operates its pension on a defined-contribution basis. Under this approach, employees deposit a certain amount of money in their individual account, which they can manage themselves. We operate the retirement pension system in accordance with relevant laws and regulations.
Annual retirement benefit contributions
(unit: KRW 1 million)
eTown Halls
The eTown Hall is a unique method of communication at AfreecaTV. These quarterly meetings that involve all employees, including the CEO, promote a company culture with stronger communication and innovation. The CEO communicates with all employees freely through online, offline, PC, and mobile platforms, and any employee can participate in the comment section. We discuss the direction of AfreecaTV for the upcoming year. We will continue to leverage this medium and company culture to grow AfreecaTV, and give our workforce the opportunity to communicate about the management strategies and operational directions.
Highest simultaneous viewership
Fully Engaged Organizational Culture
AfreecaTV fosters an environment in which all employees can work freely and proactively. We provide coaching to employees in setting individual goals and identifying exemplary cases and areas for improvement. In addition, we identify the strengths and weaknesses of individuals as they reach their goals, and monitor them to help them grow.
We have also introduced a 35-hour work week and a flexible schedule system to achieve a work culture where each person takes full responsibility for his or her performance. Employees are free to choose the devices they want to work with. We are striving to build an efficient and flexible work culture.
Any employee can qualify to be a team leader by demonstrating his or her ability to lead in the organization. The company's culture of mutual respect embraces merit-based advancement. Employees can transfer teams to discover growth opportunities and contribute to strengthening the competitiveness of the organization.
HR_ON, Internal Consultation Channel
We launched HR_ON, an internal consultation channel through which employees can talk about bad work relationships, sexual harassment, bullying, and other difficulties at work as well as personal issues. Confidentiality is guaranteed. In this way, AfreecaTV is making multifaceted efforts to listen to and solve the grievances of its employees.
List